Main content starts here, tab to start navigating
Menus
Slide 1 of 18
Slide 2 of 18
Slide 3 of 18
Slide 4 of 18
Slide 5 of 18
Slide 6 of 18
Slide 7 of 18
Slide 8 of 18
Slide 9 of 18
Slide 10 of 18
Slide 11 of 18
Slide 12 of 18
Slide 13 of 18
Slide 14 of 18
Slide 15 of 18
Slide 16 of 18
Slide 17 of 18
Slide 18 of 18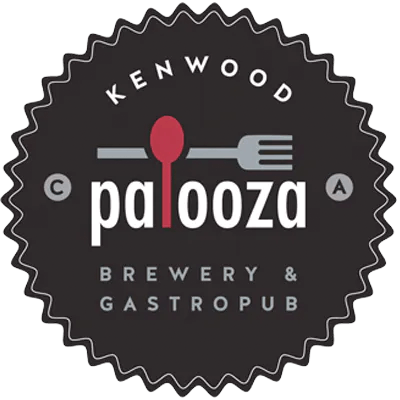 FULL SERVICE RESTAURANT
HAND CRAFTED COCKTAILS
CRAFT BEER
HAND CRAFTED FOOD
OPEN 7 DAYS A WEEK
CLOSED
THANKSGIVING, CHRISTMAS JANUARY 1 - 7, 2024
ON LINE ORDERING
https://www.toasttab.com/palooza-brewery-pub-8910-sonoma-highway
or Call 707-833-4000
Menu Items are not guaranteed.
Prices are not guaranteed
Download PDF
Small Plates
AHI POKE

sushi grade ahi tuna, crispy wontons, pickled onion, cucumber salad, sriracha aioli, sesame seeds

$19

CHICKEN WINGS

Buffalo | Habanero | Spicy House BBQ served with Blue Cheese Dressing

$15

MOZZARELLA BALLS

fresh made mozzarella, breaded and deep fried, served with ranch

$13

GARLIC HUMMIS & PITA BREAD

Fresh house made hummus, chili oil, grilled pita bread

$12

TRUFFLE FRIES

french fries with white truffle oil, truffle powder, l and freshly shaved parmesan cheese

$12

HOUSE MADE POTATO CHIPS

$6

BRUSSEL SPROUTS

deep fried brussel sprouts, roasted apples, Andouille sausage, Parmesan, lemon dijon aioli

$14
Plates
FISH & FRIES

beer battered cod, french fries, malt vinegar aioli.

$24

PAN SEARED SALMON MUSHROOM RISOTTO

cremini, porcini, and maitake mushrooms with shallots, and parmesan cheese

$28

Salmon Fillet $15

Grilled Prawns $8

Grilled Chicken $7

BBQ BABY BACK RIBS

Lightly spiced house made BBQ sauce, pork baby back ribs, slaw, fries

1/2 rack $29

Full Rack $52

PAN SEARED IDAHO RAINBOW TROUT

butterflied-pan seared, chimichuri sauce, fingerling potatoes and green salad

$28

CHICKEN FETTUCCINI ALFREDO

served with garlic bread

$24
Salads
Add Protein

Grilled Chicken $7

Pan Seared Salmon $15

Grilled Shrimp $8

LIL' GEM CAESAR

Lil' Gem Romaine lettuce, house made croutons, Anchovies, Parmesan, House Caesar Dressing.

$14

SHREDDED KALE SALAD

gorgonzola crumbles, pepitas, fresh apples, apple finaigrette

$14

SOUTHWEST CHICKEN SALAD

Napa cabbage, black beans, fresh corn, cotija cheese, cherry tomatoes, cilantro, chipotle ranch, grilled chicken

$18

BEET SALAD

whipped goat cheese, arugula, citrus, almonds, champagne vinaigrette

$14
Pizza Oven is OPEN daily
12" Wood Fired Pizza Ask about our gluten-free, cauliflower crust option.
PROSCUITTO & ARUGULA

proscuitto, arugula, garlic cream sauce, shallots, mushrooms, white truffle oil

$25

MARGHERITA PIZZA

Fresh House-Made Mozzarella, Marinara, Sliced Roma Tomatoes, Fresh Basil

$22

MEAT LOVERS

sausage, pepperoni, bacon, house marinara, mozzarella cheese and topped with red onions.

$24

PESTO

mozzarella, arugula pesto, mushrooms, cherry tomato, red onion

$23

CHEESE PIZZA

Hand made dough, tomatoes, house made mozzarella cheese, marinara

$19

BBQ CHICKEN PIZZA

grilled chicken, house made bbq sauce, ranch dressing, jalapeños, red onion

$23
TACOS
BAJA FISH TACOS

two breaded and fried cod tacos, coleslaw, chipotle aioli, pico mango sauce, fresno chilis, fresh cilantro SUB: Fried avocado

$18

PRAWN TACOS

two roasted prawn tacos with slaw, avocado cilantro cream, pickled onion, and red fresno chiles

$17

BARBACOA TACOS

two braised beef tacos, chimichurri, pickled onions, red chilis, cilantro, avocado crema

$18
Burgers
Choice chuck & brisket. All burgers served with french fries.
Fries Choices

Truffle $3 | Garlic $2 | Ghost $2

ADD: Bacon $3/ Fried Egg $3/ Caesar or House Salad $2/ Grilled Onions $2.5/ Avocado $3/ Blue Cheese $2.5/ Brie Cheese $2.5/ beyond burger $2

add on

CLASSIC BURGER

Quarter Pound Burger, Roasted Garlic Aioli, Pickles, Lettuce, Red Onion, Tomato, Cheddar. Make it a double for 5

$20
Sandwiches
Served with House Made Chips.
PULLED PORK SANDWICH

Braised Pork, Coleslaw, House Made lightly spiced BBQ Sauce. Served with house made chips

$17

FRENCH DIP

house made roast beef, grilled onions, swiss cheese, horseradish aioli, au jus dipping sauce, french sourdough roll, served with house made potato chips

$22

CRISPY CHICKEN SANDWICH

fried chicken breast, lettuce, tomato, onion, pickle, buttermilk ranch dressing, with house potato chips

$18

CHICAGO DOG

Viena brisket beef dog, onions, tomatoes, sports pepper, pickle spear, neon green relish mustard, celery salt

$15

SMOKED SALMON CLUB

house smoked salmon, bacon, lettuce, red onion, tomato, caper aioli, toasted white bread

$20

OYSTER PO' BOY

fried oysters coleslaw, tomato, pickles, caper aioli, french roll

$22
Milkshakes & Desserts
MILKSHAKES

16oz, Vanilla, Salted Caramel, or Chocolate, Strawberry, Mango, Cherry served with whipped cream.

$9

DEEP DISH COOKIE

Warm Chocolate Chip Cookie Topped With Chocolate Granache, Vanilla Ice Cream, Sea Salt

$11

AFFOGATO

Equator Coffee Espresso Over Vanilla Ice Cream

$7

BREAD PUDDING

chocolate chip bread pudding, served hot, vanilla ice cream, carmel sauce

$11

CHEESECAKE

Served with seasonal fruit

$13

MUD PIE

mocha almond fudge ice cream cake with chocolate cookie crust, chocolate shavings, almonds, whipped cream

$12

ESPRESSO TIRAMISU

ladyfingers, espresso, cocolate

$12
KIDS MENU
Kids menu is for kids 12 and under! We reduce the price for our quality food just for the kids.
KIDS GRILLED CHEESE WITH FRIES

$11

KIDS BURGER AND FRIES

$12

Cheese $2

Tomatoes $1

Pickles $1

Lettuce $1

Sub Salad $2

KIDS FISH & CHIPS

$13

CHICKEN STRIPS AND FRIES

Fresh chicken breast dredged and deep fried to order, served with french fries

$13
Slide 1 of 34
Slide 2 of 34
Slide 3 of 34
Slide 4 of 34
Slide 5 of 34
Slide 6 of 34
Slide 7 of 34
Slide 8 of 34
Slide 9 of 34
Slide 10 of 34
Slide 11 of 34
Slide 12 of 34
Slide 13 of 34
Slide 14 of 34
Slide 15 of 34
Slide 16 of 34
Slide 17 of 34
Slide 18 of 34
Slide 19 of 34
Slide 20 of 34
Slide 21 of 34
Slide 22 of 34
Slide 23 of 34
Slide 24 of 34
Slide 25 of 34
Slide 26 of 34
Slide 27 of 34
Slide 28 of 34
Slide 29 of 34
Slide 30 of 34
Slide 31 of 34
Slide 32 of 34
Slide 33 of 34
Slide 34 of 34
We are offering beer, wine and cocktails to go. Because... it's fun and it's legal right now (thanks California!). BEER available by the growler and pint, WINE by the bottle and glass Must be 21+ and must order with food.
Non alcoholic and Espresso drinks!
Don't miss our new dessert cocktail menu!
Palooza Brews on Tap
Please view Beer Boards or ask your server for today's Local Draft Beer Selections
Palooza Kenwood Haze, Hazy IPA 6.3%

Palooza Poppin' Pils 4.7% ABV

House Brewed American Lager

Henhouse Blonde

Palooza Juice is Loose Juicy Floral IPA 6.5%ABV

Drakes Amber Ale

Old Caz Kinokawa Rice Lager 4.3% ABV

North Coast Old Nitro Rasputin Stout 5.8%ABV

64 oz Growler of Our Fresh House Brewed Beer

$38

Beer Sampler

Come and Enjoy three three ounce samples of any of our house beers.

$10

64oz Growler Refill of our House Beer

$25

3 Disciples Lunar Halo 10oz Pour

Bourbon Barrel Aged Stout 11% ABV

$8
Palooza Fall and Dessert Cocktails
Our Artisan Cocktails focus on Locally Sourced Spirits and Ingredients. All shrubs and syrups made in house
Hopscotch

glenmorangie x, carpano, antica, mexican chocolate bitters, orange twist

don't Take Me For Pomegranate

aviation gin, lime juice, pomegranate juice, egg white

Frisky Sour

bulleit rye, lemon juice, passionfruit liquor, egg white

The Spice is Right

jalapeño infused tequila, grapefruit soda, grapefruit juice, grand marnier

Pumpkin Peanut Brittle

Screwball whiskey, frangelico (hazelnut liquor) pumkin puree, milk

ESPRESSO MARTINI

flying goat espresso, Ketel One vodka, creme de cacao

Rum into Trouble

captain black rum, captain white rum, fresh spices, orange, pineapple lime, coconut cream grenadine

IRISH COFFEE (HOT OR COLD)

Jameson, fresh americano, simple syrup, fresh whipped cream

Cinnamon, Spice and Everything Rice

jim beam fire, rumchata, caramel hot chocolate, fresh whipped cream, served hot
Local White Wines by The Bottle
Sparkling Wines

Gloria Ferrer "blanc de noirs"

California, NV

Chandon Blanc De Pinot Noir

Kenwood Vineyards Yulupa Brut

Rosé & White Blends

Fathia Winery, Rosé of Pinot Noir

2020 Russian River Valley

Vaughn Duffy Rose of Carignane

2020 Mendocino County

SAUVIGNON BLANC

Kunde Family Estate, 2020

Sonoma County

Ledson Winery & Vineyards

2017 Russian River Valley, Sonoma County

St Francis Winery, Sauv Blanc 2019 Sonoma County

Fathia Winery, Sauv Blanc 2019 Russian River Valley

Hamilton Family Wines Rose of Grenache

2021 estate sonoma valley

Chardonnay

St. Francis Winery, Chardonnay 2019 Sonoma County

La Rochelle Winery, 2015

Poseidon Vineyards, 2017 Carneros Napa Valley

Kunde Family Winery, 2018 Sonoma Valley

Ferrari Carano, 2019 Sonoma County
Dry Riesling
Trefethen, 2020 oak knoll district
LOCAL RED WINES BY THE BOTTLE
RED BLEND

Enkidu Humbaba 2018

Sonoma Valley

Vaughn Duffy Wines

2019 old river red

Skyside

2018 north coast

Pinot Noir

La Rochelle Wine, Pinot Noir

bacigalupi vineyards 2017

La Rochelle "Po.lyph.o.ny" Pinot Noir

Blend of three Pinot Noir Varietals, California

Vaughn Duffy

2018 russian river

Enkidu

2019 sonoma county

ZINFANDEL

Kenwood Vineyards

2019 Sonoma-San Joaquin County

Kunde Vineyards

2018 Sonoma Valley

CABERNET SAUVIGNON

Benzinger Wines

2019 sonoma county

Kendall Jackson Grand Reserve, 2018

Sonoma County

Ty Caton, Winemaker's Cuvee, 2017, Sonoma County

Enkidu Winery

2019 Sonoma County
Wine By The Glass
La Rochelle Winery Pinot Noir

Enkidu Winery, Humbaba Red Blend

Spann Vineyard, Mo Zin

Chandon Blanc De Pinot Sparkling

St Francis Winery, Sauv Blanc

2019 Sonoma Valley

Ledson Winery, Sauv. Blanc

2017 Russian River

Faithia Winery, Rosè of Pinot Noir

2020 Russian Valley

St. Francis Winery, Chardonnay

2019 Sonoma Valley

Kendall Jackson Grand Reserve

Ferrari Carano winery, Chardonnay

2019 Sonoma County
Bottled and Canned Alcoholic Drinks
Tolago Seltzer 5%

ginger-pear cherry-rose guava-mango

$8

Sonoma State Cider

$10
Drinks
House Made Syrups & Shrubs
Fancy Lemonades

( Lavender, and seasonal fruit)

San Peligrino Sparkling Water

Fever Tree Ginger Beer

Heineken Zero

Apple Juice

Ice Tea

Pepsi

Diet Pepsi

Sierra Mist

Ginger Ale

Orange Juice 10oz
Equator Espresso
We use Barking Dog Coffee Company
Espresso (Flying Goat Coffee)

Americano

Iced Americano

Latte

Mocha

Salted Caramel Latte

Milk Shake

vanilla, chocolate, seasonal
HAPPY HOUR
Happy hour 3pm to 5pm Wednesday, Thursday, Friday $5.00 Palooza Beers, $5.00 House Wines, $6.00 Well Drinks
Slide 1 of 17
Slide 2 of 17
Slide 3 of 17
Slide 4 of 17
Slide 5 of 17
Slide 6 of 17
Slide 7 of 17
Slide 8 of 17
Slide 9 of 17
Slide 10 of 17
Slide 11 of 17
Slide 12 of 17
Slide 13 of 17
Slide 14 of 17
Slide 15 of 17
Slide 16 of 17
Slide 17 of 17